12 Ways Moms Can Be Greener in 2014
These days it's easier for parents to live a greener lifestyle and teach their families to be environmentally conscious. There are so many ways that you can make a difference and make small lifestyle changes in order to help save and protect the earth. For moms this includes buying products that are eco-friendly, making your own natural products, and making the effort to do things a little differently than what you're used to. Families can start by making one simple change for each month in 2014. By introducing these changes into your families' lives gradually, it makes the transition to a greener lifestyle easier for kids and parents so everyone will be excited to adopt these changes.
 1. Buy organic baby/kids products and clothing
Parents should be paying attention to the materials that make up the products they buy for their kids. Often these products contain harmful ingredients and chemicals that are not safe for children. Always check the labels when purchasing baby and children's products.  Avoid items containing polyurethane foam which is often treated with toxic fire-retardant chemicals.  Look for eco-friendly, hypo-allergenic, and non-toxic products made from organic materials with low-impact dyes.
 2. Car-free Saturdays
Every weekend parents can make the decision to not use the car at all and opt to walk or use their bike. Many times parents rely on their cars for every little trip, even if it's just to drive a few blocks away to a friend's house or to the park. Making the sacrifice to not use the car one day a week encourages families to go out into the fresh air and get some exercise. Plus it saves money on gas while reducing emissions that contribute to global warming.
 3. Ditch the Ziplocs and use reusable bags
Instead of using plastic bags that can be dangerous to the environment and have chemicals that can leach into food, opt for glass containers or reusable bags. Use bags that are eco-friendly, washable and BPA and Phthalate-free. Reusable bags are much more convenient and safe for storing lunch and snacks for kids when they are chemical-free. These bags can also be used for all kinds of storage to organize clutter and can be washed numerous times while remaining durable.
 4. Switch to eco-friendly cleaning products and laundry detergent
Using green cleaning products for the home ensures the safety of your family and pets. These cleaning products contain no harmful chemicals that are dangerous for your health and can cause allergies and skin rashes. You can even use some items you already own at home to make your own natural cleaners. Use eco-friendly cleaning products and laundry detergents that are super-safe for your home, are all-natural and great for those with sensitive skin.
 5. Use motion sensor lights or light dimmers in your home
Motion sensor lights can detect when someone enters and leaves a room so they automatically turn on or off. With these lights you will never forget to turn the lights off again so they automatically save energy for you and they're great for kids who can't remember to turn the lights off when they leave a room. Light dimmers also save energy while they are in use by using less electricity and they can save you money in the long-run.
6. Be smart about your paper/plastic use
You can reuse all of the paper in your home for kids' art projects, wrapping paper and more. Use old magazines to make fun collages and old memos and note paper for kids to draw on. Make a printing mistake?  Don't throw the paper away!  Have a bin nearby for recyclable paper.  When ordering take-out, let the restaurant know that you do not need them to send napkins, plastic utensils, condiments or anything else you already have. Finally, opt for dry-erase boards for writing down messages and notes to the family so you don't have to use memo pads.
 7. Donate old clothes, toys and books
If your kids have gently-used clothes and toys they have outworn, donate them to a local thrift store or Salvation Army store so another family can use them. You can donate all sorts of items to these stores,  so clean out those closets and pantries, and make one big trip to the store. This is a great family activity and teaches children the importance of giving back.
8. Line-dry your clothing
A clothes dryer may be convenient but it also results in an expensive electric bill.  It can use more energy than any other appliance in your home. Start hanging your laundry on a clothes line to dry to cut down on costs and electricity. Did you know that in most homes in Russia and France they only have washing machines?  Everyone hangs their clothes to dry all year round.
9. Buy locally grown food
Buying local is a great way to save; food is fresher and tastes better. Plus, you'll know exactly where your food is coming from and it's healthier for you. When you buy local you're supporting sustainability and farms with eco-friendly practices.
10. Set up recycling bins in your home
Get your kids to practice recycling regularly by setting up different colored recycling bins in the home. Teach kids which types of items go in each bin and what is not allowed in the bins. Show them the labels on items that indicate the item is recyclable and make a game out of it so kids have fun learning.  And recycle plastic grocery bags by taking them back to the grocery store and placing them in the appropriate bin. Buy and use recyclable shopping bags for your grocery runs.
11. Choose products with an Energy Star label
The Energy Star program is sponsored by the EPA and the Department of Energy and it rates different household appliances and items. An item with an Energy Star label guarantees the item is energy efficient. By using Energy Star products you use about 30% less energy than the average household.
12. Plant your own garden
Growing your own fruit and vegetables at home can save you a lot of money and provides your family with healthy, nutritious food. You don't need a big space to grow a garden and it has an immensely positive impact on the environment. Use eco-friendly methods to maintain your garden, like composting and collecting water in a rain barrel.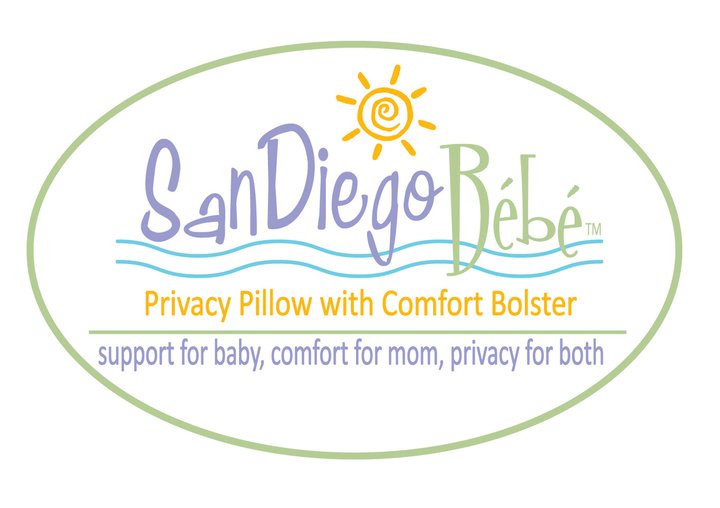 Guest blog by Sandy Clark, Inventor of San Diego Bebe Eco-Nursing Pillow
San Diego Bebe® was designed by San Diego native Sandy Clark, a passionate breastfeeding advocate and mother of twins. Clark was inspired at a San Diego beach one day where she witnessed a young mother unsuccessfully nursing her baby. As the mother struggled to keep a blanket across her shoulder while her baby wailed from heat and hunger, Clark vowed then and there to design a product that would help resolve the issue of privacy while nursing. San Diego Bebe® was born that day.
When Clark sent her nursing pillow to Duke to be tested and reviewed, Duke University Chemical Scientist Dr. Heather Stapleton, who is a mother herself, said, "The San Diego Bebe® Eco-Nursing Pillow is not only a very supportive pillow with amazing features for discreet nursing, but is also free of flame-retardant chemicals that have been shown to cause adverse health effects in animal studies. I applaud Double Blessings (Clark's company) for taking steps to produce high quality products that meet the same flammability standards without using these chemicals."
San Diego Bebe® Eco-Nursing Pillow is the healthiest and most innovative nursing pillow on the market. Made with virgin polyfiber Eco*Loft™, a non-toxic and hypo-allergenic foam-alternative, it's void of harmful chemicals. It's also recyclable and eco-friendly. San Diego Bebe® is available in two versions, for nursing one baby or twins. The entire line is baby-safe, and is covered with deluxe plush fabrics including organic cotton.
Click to view a Nursing Pillow Comparison Chart to learn more.
Interested in writing a guest blog for Wee Urban? Send your topic idea to pr@weeurban.com.
All data and information provided on this site is for informational purposes only. Wee Urban makes no representations as to accuracy, completeness, current-ness, suitability, or validity of any information on this site and will not be liable for any errors, omissions, or delays in this information, or any losses, injuries, or damages arising from its display or use. All information is provided on an as-is basis.